Plenary Speaker: Evelyn Cunico
Trends in Complementary and Integrative Health: Web Resources for Health Science Librarians
Complementary and integrative health approaches include a broad range of philosophies, products, and therapies, which share the common goals of modifying health behaviors to manage chronic illness and to promote health across the lifespan.
An estimated 38 percent of adults and 12 percent of children in the United States used some type of complementary health approach, resulting in total out of pocket expenditures of $30 billion, according to the 2012 National Health Interview Survey (NHIS), conducted by the U.S. Department of Health and Human Services Centers for Disease Control and Prevention.
Considering the continuing high use of complementary and integrative health approaches, health science librarians are thinking about questions they may be asked, or LibGuides, or collections.
In addition to highlighting trends, this presentation will review a selected list of Web resources that health science librarians may access to meet user information needs of clinicians, medical residents, researchers, educators, students, administrators, patients, and consumers.
Evelyn Cunico, MA, MSLIS
Evelyn Cunico is an Information Professional and Writer, with a recent Master of Science degree in Library and Information Science (MSLIS) and a Master of Arts (MA) degree in English.
Evelyn's continuing education in clinical medical searching includes completing PubMed for Librarians, the five-module online real-time classes presented by instructors at the National Library of Medicine.
Earlier in her career, Evelyn worked onsite for medical and hospital associations as a Writer and Managing Editor in the respective areas of socioeconomic policy and hospital newsletter management.
More recently, she has worked on contract as a medical specialty society News Writer in science research and education. Her experience includes assisting clinical trial principal investigators to communicate their study results to science colleagues.
In 2013, she created CHIME Consumer Health, a monthly consumer health blog for which she finds, synthesizes, and discusses peer-reviewed medical, educational, and government information that consumers may choose to improve their health.
CHIME gives special attention to complementary and integrative health, to discover ways in which lifestyle behavior may complement evidence-based medical principles and practices to promote health across the lifespan. Evelyn blogs at https://chimeconsumerhealth.wordpress.com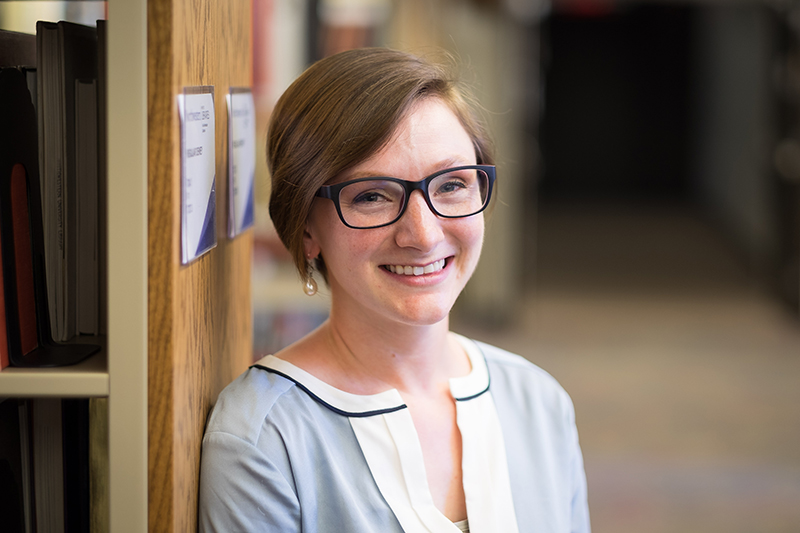 Keynote Speaker: Laura Alagna
From Surviving to Thriving in the Digital Era
The role of librarians, and of health science librarians in particular, has changed dramatically over the past several decades. The digital revolution has coincided with shrinking budgets across the board, forcing us all to do more with less: to be experts in electronic resources as well as in physical collections; to educate our users in fields like data management, preservation, and security, as well as in academic research; to promote our services on social media and to online communities, as well as reaching out to users "in real life." The traditional roles and responsibilities of the librarian – collection development, instruction, and outreach – have not gone away. They have simply become more complicated and wide-ranging in the digital era.

This address will focus on how health science librarians can manage the challenges of the digital revolution. I will briefly discuss how the digital era has changed the information professions, but will focus on the current state of digital resources in libraries and librarianship. Digital archives, which encompass resources, systems, and services, are necessary for the future of librarianship but present unique challenges.  The address will summarize the main issues behind digital archiving, including content management, format obsolescence, security and legal issues, and access.  Each of these issues is a difficult obstacle for any information professional; however, specific tools, strategies, and examples will be presented in order to help health science librarians feel confident and capable of successfully leveraging the digital revolution to better serve their users.         
Laura Alagna, MS
Laura Alagna blends passion for history and technology in her role as digital archivist at Northwestern University Libraries. She has been a practitioner of digital archiving for more than five years, and has developed and implemented policies and workflows for digital repositories at Northwestern and the University of Chicago. Laura strongly believes in promoting digital preservation outside of libraries as well, and has worked with a number of smaller organizations and local businesses on a volunteer basis to provide guidance on digital challenges.  Her goal is to reduce barriers to understanding technology and digital archiving among information professionals and the general public.
Laura has an undergraduate degree in history from Amherst College, and a graduate degree in social sciences from the University of Chicago.  She is an active member of the Chicago Area Archivists and is an appointed member of the Illinois State Historical Records Advisory Board.