Nancy's Reception
Now a tradition at the conference, the annual reception honors Nancy Stump, a longtime, fun-loving, active HSLI member who served as HSLI president from 1990 to 1993. Each year, Nancy's Reception is unique in its own special way, and the 2010 reception (Thursday, 6-9 pm), called "Partnering in a 3-Ring Circus", will highlight the annual meeting's primary theme of partnerships. It will be a festive professional evening of networking, dining, a book signing by the Friday keynote speaker, Amy Glenn Vega (a copy of her book "Lions and Tigers and Nurses" will be in each registration packet - but you can bring your own copy as well), vendors, and last but not least, a poster session.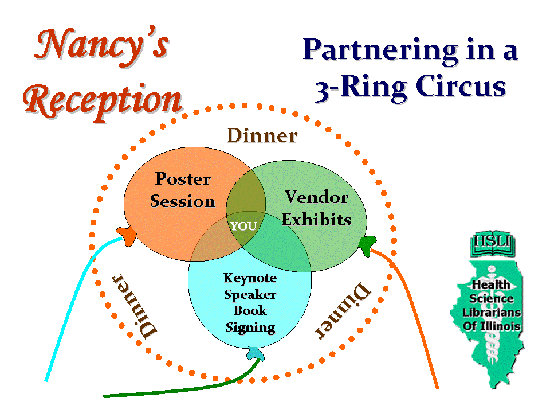 About Nancy's Reception
Nancy Stump was an active member of HSLI and served in several roles, including HSLI President from 1990-1993. She is remembered for many things, especially her fun and efficient meetings. Nancy died December 14, 2004 and is fondly remembered as a colleague, clown, friend and animal lover. Her many years of service to HSLI deserve remembrance and a party is the best way to honor her fun loving nature.